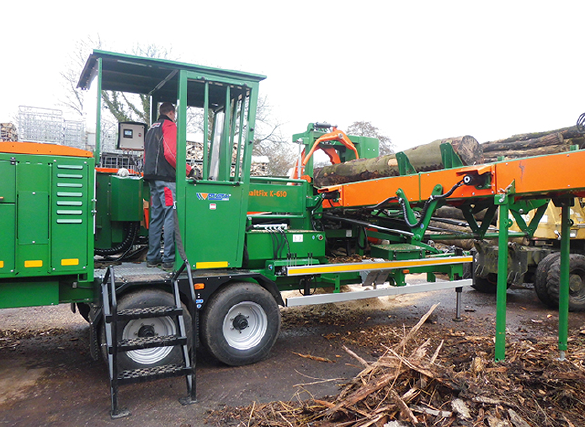 As if it wasn't enough, TecVis fitter Mathias Schulze Icking underwent training on these special machines in Austria on his own initiative, so that he would be able to offer customers a full service at the Olfen TecVis location.
Posch Vario K650
The machine is a mobile Posch Vario K650 splitter. Jürgen Maas, owner of Maas Firewood Production and Sales in Dülmen-Rorup, saw a video of the prototypes and knew immediately it was the right machine for him. His company produces firewood. "Furnaces are becoming increasingly smaller and more efficient, meaning requirements for wood are changing," explains Maas. "It can no longer be as long and as thick as it used to be. "Conventional splitting machinery has reached its limitations."
First machine at customer's
The mobile AutoSplit for Jürgen Maas was the first one in Germany supplied to an end customer. Posch always works with local dealers and servicing partners to ensure a fast, smooth service. The TecVis colleagues gladly took on the extra work for the machine. "It's a very special machine which costs a considerable sum, so you need to offer the customer added value," states Benjamin Wilkes, Municipal Equipment and Construction Machinery Sales Consultant at TecVis.
To the factory in Austria
Wilkes and Maas headed to the Posch factory in the Austrian town of Leibnitz together, took a look at the machine and went through their special requirements. Maas travelled back to the factory for the final acceptance on his own. Wilkes and Schulze Icking headed to the plant a week later. "It's important that we are able to fully meet customer requirements in the Servicing and Workshop Department in Olfen," stresses Wilkes.
Machine in use
"I'm highly satisfied with the machine," sums up Maas. He is also pleased with the support from TecVis. Maas remembers when the machine broke down in Düren on a Thursday afternoon. "TecVis arrived with the spare parts on Friday afternoon. The machine was ready for use again at 8.30pm and we were able to continue with our work on the Saturday. I think the service was perfect. Everything was just right!"