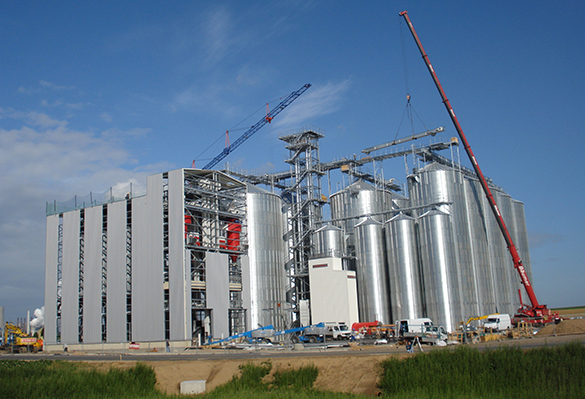 Grain collection in Rommerskirchen
We applied our detailed knowledge of operational procedures and mechanical engineering when designing and building the grain collection facility at the Rommerskirchen site. Key aspects for this project were short, optimised construction periods and detailed advice and support during subsidy and grant processes.
Turnkey
We designed and built an entire, turnkey complex for the Rommerskirchen project. This included the intake station, grain silos and conveyor and cleaning engineering, a fertiliser storage shed, sack warehouse, UAN facility, administration buildings, dangerous substances storeroom, pellet handling facilities and heating oil and diesel handling facilities. During such projects, we offer tailored, cost-optimised planning and design to meet regional needs (number and size of storage cells, number of intake pits). One thing is particularly important to our customers: optimised operating procedures and intake process, thus ensuing short waiting times for delivering customers thanks to high intake performance. During site development, high quality assurance and maintaining stored goods in a good condition remained a priority for us at all times.